Do you want to refresh your working methods and discover new ways to find new ideas?
Introducing the new, unique method of coaching workshops: How to exercise your creative muscle to discover the power of art-based activities.
In Art of Creative ConnectionsTM coaching method you use art as a tool to change the way you think. The method is created by the famous visual artist and coach Veronica Slater from UK, and now it is possible to get acquainted with it in Finland as well.
See above original painting by Veronica Slater http://www.veronicaslater.com/suburbia-paradise.html
www.veronicaslater.com
www.artofcreativeconnections.com
Ready to change the way you think – in just one day ?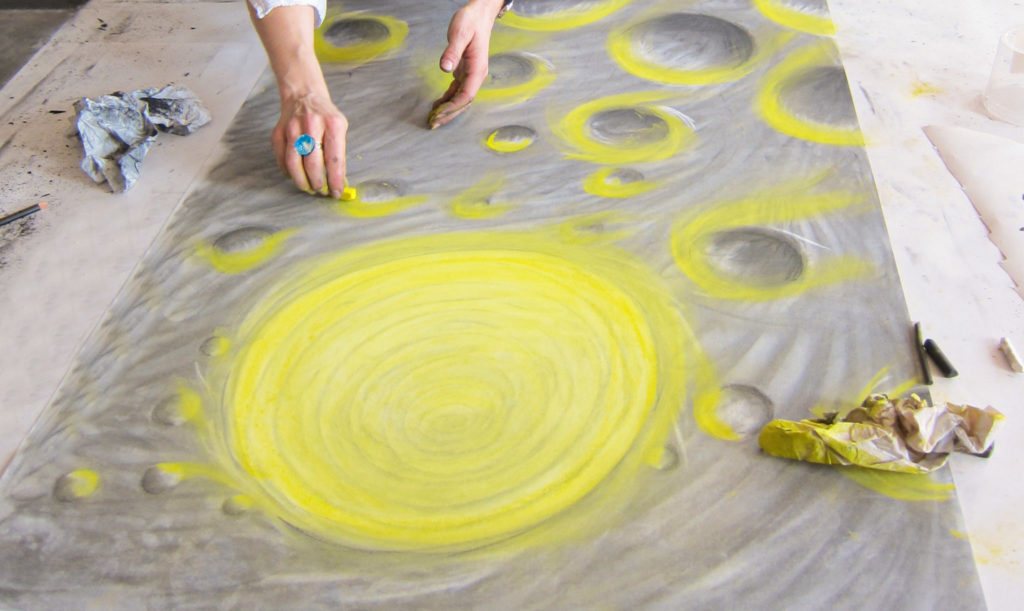 Art of Creative ConnectionsTM is a new kind of coaching which helps people to exercise their creative 'muscle' by applying methods and techniques used by professional artists. During the coaching day you and your team are encouraged to meaningful and imaginative process of discovery and dialogue. You learn to unlock imagination, which results more trust on your own creativity.
Get results how your team improves creative thinking
What we offer is a day of self development and team dialogue through a most surprising and remarkable process. This method has outstanding results and after the coaching day you'll get a report how your team improved in creative thinking and problem solving capacity.

Our unique expertise will help you to become more creative and innovative and gain more capacity for problem solving.
Drawing on Potential
Introduction to our coaching method is Drawing on Potential workshop day, that discovers creative strategies through basic drawing.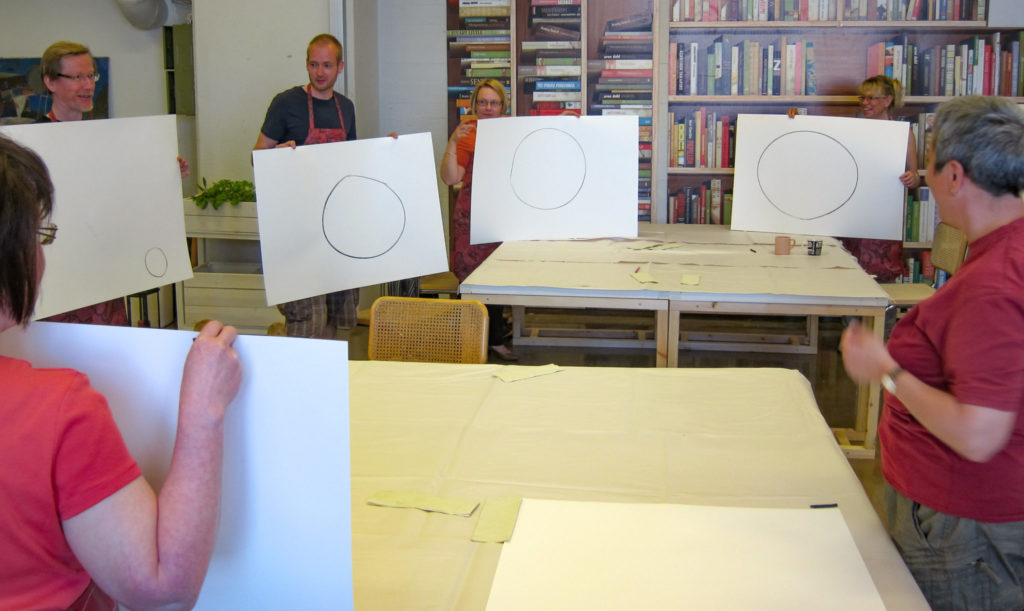 During this workshop you will be encouraged, step by step, to expand your horizons. You will be using easy methods and tools like charcoal, pastels and markers. The aim is to bring the threshold for drawing and visualizing as low as possible and ignite the imagination by changing your perception in surprising and unexpected ways.
Drawing on Potential is also an excellent team building opportunity as team members discover together a new awareness that will stimulate pioneering ideas. The workshop is built on introductory lecture, hands-on working, reflection, and joint discussions. This experience will give the team a common set of references that can be used time and time again in the work place.
Creativity makes the impossible possible
The Art of Creative ConnectionsTM method has outstanding results and after the coaching day you will get a report how your team improved in creative thinking. The results of the courses run by Veronica Slater earlier show that around 70% of the participants have reported an improved ability in creative thinking after one day coaching.
Here is some feedback on previous coaching day:
"In future I am able to create more space for innovation in work life."
"The course gave me more confidence that my thinking can be creative and innovative."
"After the coaching day, I think of my work more as a rewarding process, not just in terms of the end result."
Join the coaching day and improve your creative capacity!
Yes, you can exercise your creative 'muscle'!
With the guidance of professional visual artists and Art of Creative ConnectionsTM method we will offer you training that will motivate and inspire a fresh working dynamic whilst being enjoyable and rewarding. It is guaranteed to deliver one of the most effective investments for developing the creative talent and resources of an organization.
What you will get
One-day workshop of making perceptions, visualising, drawing and discussing
Immediate feedback of how your team's creative thinking improved
Common set of references and creative tools that you can use time and time again
An enjoyable, memorable and fun day of discovering and unleashing your creative potential together

Introducing Veronica Slater, your coach and mentor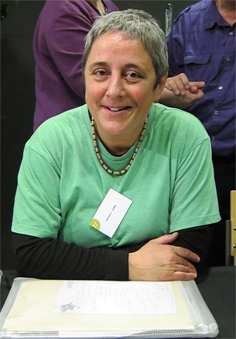 Visual artist and arts educator Veronica Slater (UK) has been putting into practice a world class model of cultural learning that has developed through 20 years of teaching experience. This has included 17 years at The City Lit in London. Her work has pioneered new areas of arts education and training including 'Creative Connections' and 'The Arts Programme for Business'.

Veronica has extensive 'hands on' practical experience in formulating creative practice for business and her courses aim to build on the human resources within an organization. Using drawing as a tool for self-development and to explore group dynamics through opening up the process of discovery with guided experimentation the group learns the 'art of innovation'.
Ready to create and innovate? Call us today!

Contact:
Kaisa Kerätär
Producer, Agent of Art and Creative industry
+358 45 124 2050
kaisa.keratar(ät)waria.fi