Food as part of traditional ecological knowledge
(Teksti suomeksi löytyy blogin lopusta)
In Eastern Lapland in Finland, the berry-picking season is always something to look forward to, starting from mid-July with cloudberries and stretching all the way into late September, when it's time to get your hands on the cowberries.
Cranberry pickers keep on even further into autumn, as frost bitten cranberries are at their best after the first frosts in October.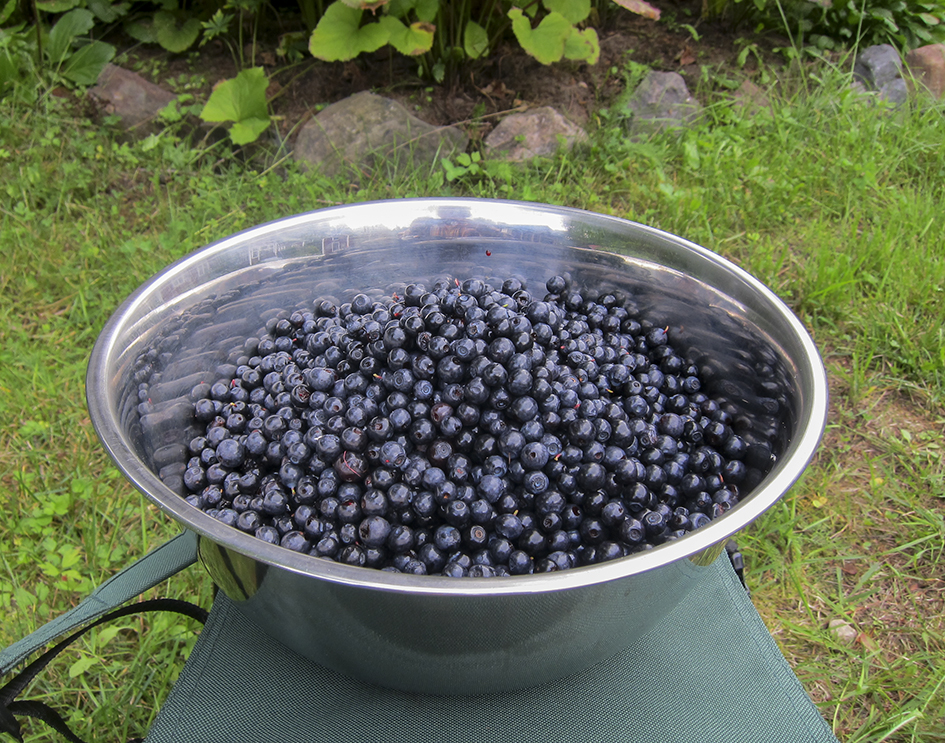 Wild blueberries picked from the forest are preserved for winter.
In addition to cloudberries, cowberries and cranberries, we pick blueberries and raspberries. We preserve all these berries for winter as they are, or then as jam and juice. For some, even the crowberry is a useful berry to pick, as its juice is tasty and easy to preserve.
Self-picked berries are an important part of the Lappish food culture and well-being. Besides the fact that they add variety and colour to the diet, many of them have since the olden times been used for medicinal purposes.1 It is today known that the cowberry, for example, is rich with antioxidants, efficiently prevents low-grade inflammation, among other things, and has a positive effect on cholesterol levels.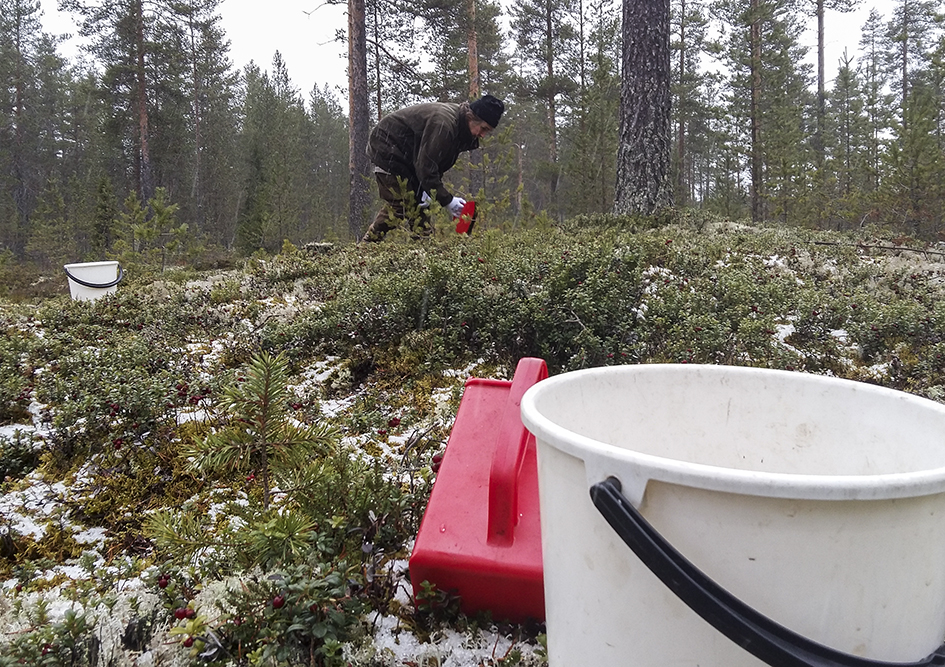 Sometimes the arrival of winter can take berry-pickers by surprise.
Picking berries is also a social event. Berry-picking trips were, and still are, something a family does together, and they would head for the same spots every year. Knowledge about good berry-picking spots was often passed on from one generation to the next, and it wasn't entirely appropriate to harvest in an area known to belong to another family. Also, the selling of berries brought much-needed additional income in times of otherwise scarce livelihood.
Game and fish have traditionally also been a pivotal part of the diet all year round. For example, dry meat made from reindeer or venison is one of the traditional foods prepared outdoors in early spring.
Early spring is the right time to hang out reindeer or moose meat to make dry meat.
Being light and keeping long, dried meat is perfect outdoor food that you can just dig out from the rucksack and whittle away when sitting by the campfire.
In our hunter-fisher-farmer family, braised venison was something we prepared on a weekly basis.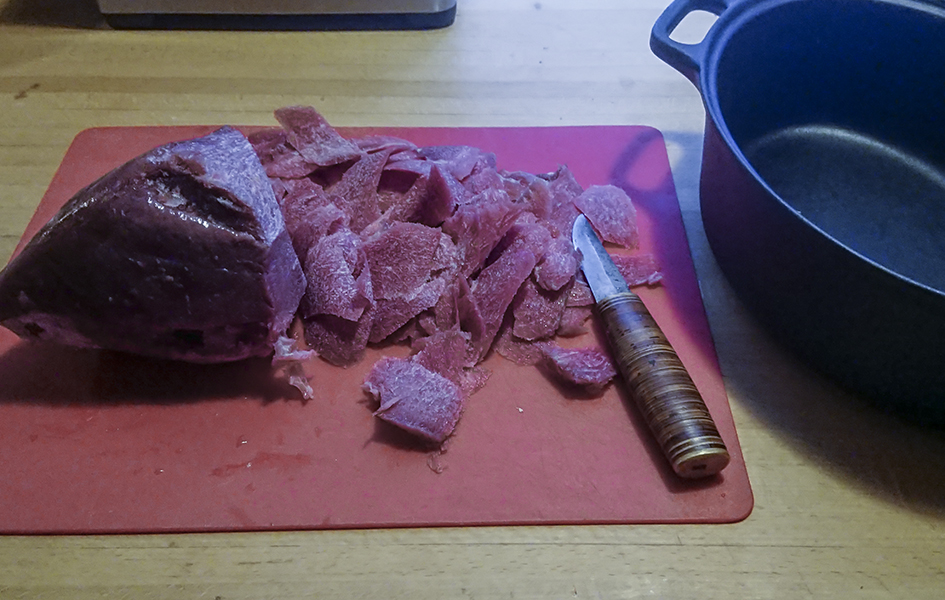 Braised reindeer or venison is a traditional Lappish dish prepared of an icy piece of meat.
For me, cutting and cooking the meat was a very familiar and mundane task, until a few years ago, when artist Harriina Räinä offered me a fresh perspective on the subject.
Räinä's work called Hunted (2018)2 circles around the theme of venison and moose hunting. The artist wanted to study the role of animal-based matter and the transformation that happens when the matter of moose assimilates into a human body.
Harriina Räinä: Hunted, 2018 (Exhibition view). Photo: Petri Summanen / Academy of Fine Arts
Studying Räinä's works made me think more specifically about my own body and the amount of energy and matter that the moose used by my family for food had provided for my growth and building up my body over the years, leaving me extremely grateful. Wow how "moosefully magnificent" my body turned out!
The Eastern Lappish food culture is characterised by careful utilisation of raw materials. As a result of the harsh living conditions and times of scarcity that throughout history often wreaked havoc among the population, people learnt to utilise every potential raw material for food. For instance, kampsut is a traditional dish made from reindeer blood and rye flour served with potatoes and mashed cowberries.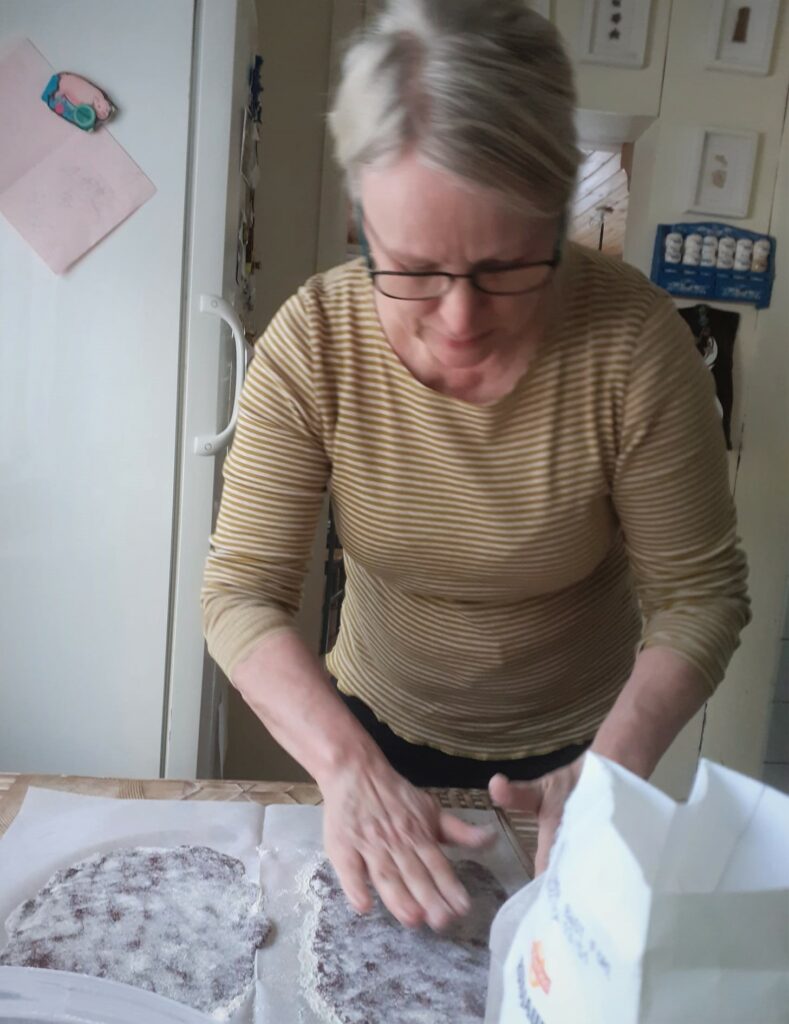 Eastern Lappish dish kampsut is made from reindeer blood. Photo: Aija Tuovinen.
The book Lapin ruokia, which contains traditional dishes from Lapland, also features this recipe for oravavelli (squirrel gruel), which probably dates back to the period of shortage: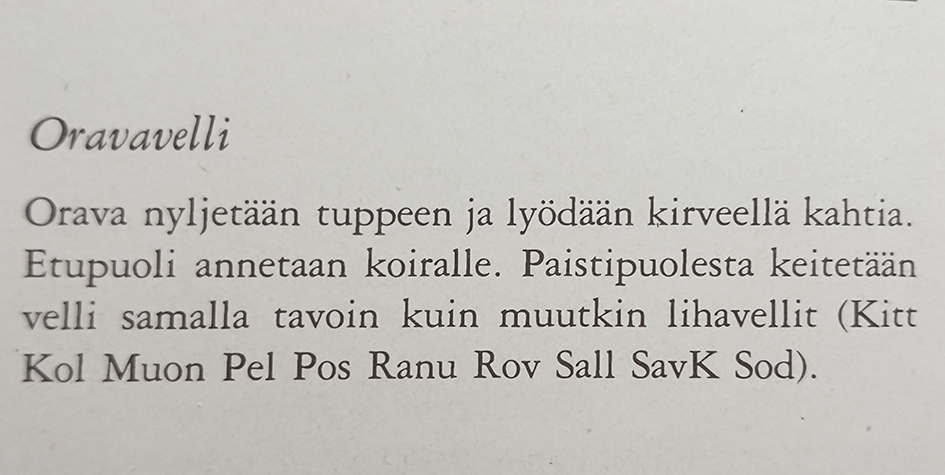 "Squirrel gruel recipe. Skin the squirrel and cut in half. Serve the front half to the dog. Cook the rump into gruel, as any other meat gruel." in Lapin ruokia (1981).
Hats off to the Lapps in the times past who, when the crops failed or in the absence of better game, had to toil away with this chow the modern human may find rather surprising and peculiar!
All in all, the Lappish food culture is a good example of traditional ecological knowledge, TEK. Berges3 defines it as cumulative knowledge, skills and beliefs which are passed on through cultural transfer from generation to generation, pertaining to the relationship of humans and other living creatures with each other and their environment.
According to ICSU (International Council of Science)4, traditional ecological knowledge plays an important role in the local decision-making process when discussing everyday topics, such as utilisation of natural resources (hunting, fishing, gathering, farming and animal husbandry), acquisition and preparation of food, treatment of illnesses, knowledge of natural phenomena, mobility, self-protection and acclimation to environmental and societal changes.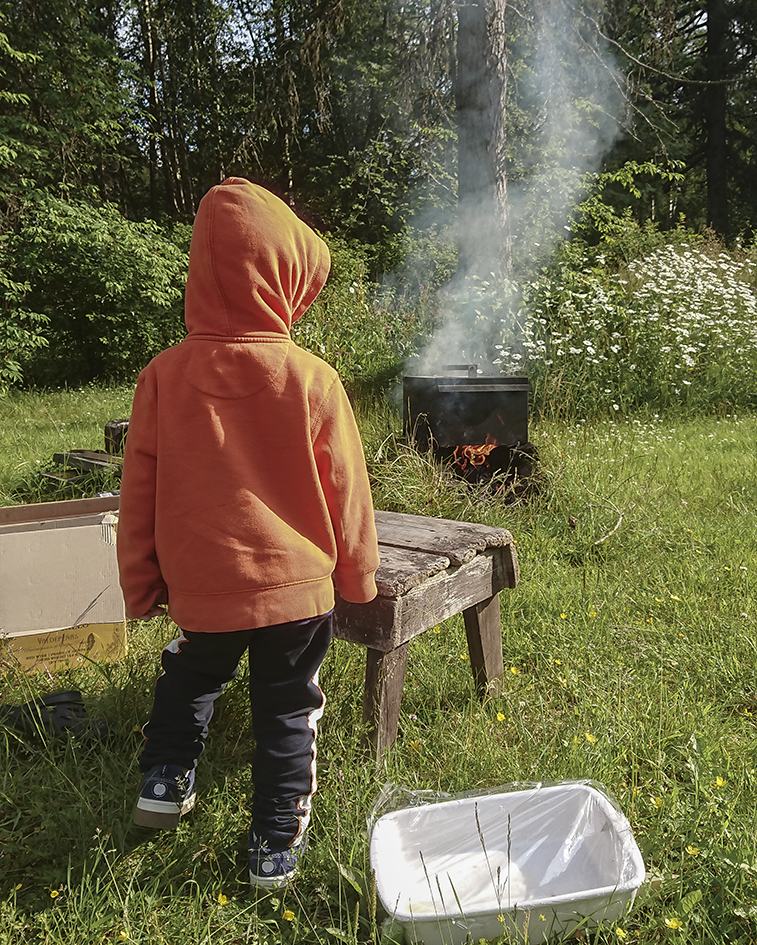 In summer, fish is cooked by smoking. It is seasoned with salt, sugar, alder chips and a juniper twig.
Strong year-to-year variation of seasons in terms of weather and natural conditions is characteristic to the Lappish environment. Traditional knowledge has helped the communities living in Lapland in adapting to these changes, preparing them for facing crisis situations. We can't afford to lose this knowledge. Luckily, today it is acknowledged even on an international level how vitally important it is that the traditional local communities retain this knowledge. In fact, the Convention on Biodiversity5 states that this shall remain so also in the future.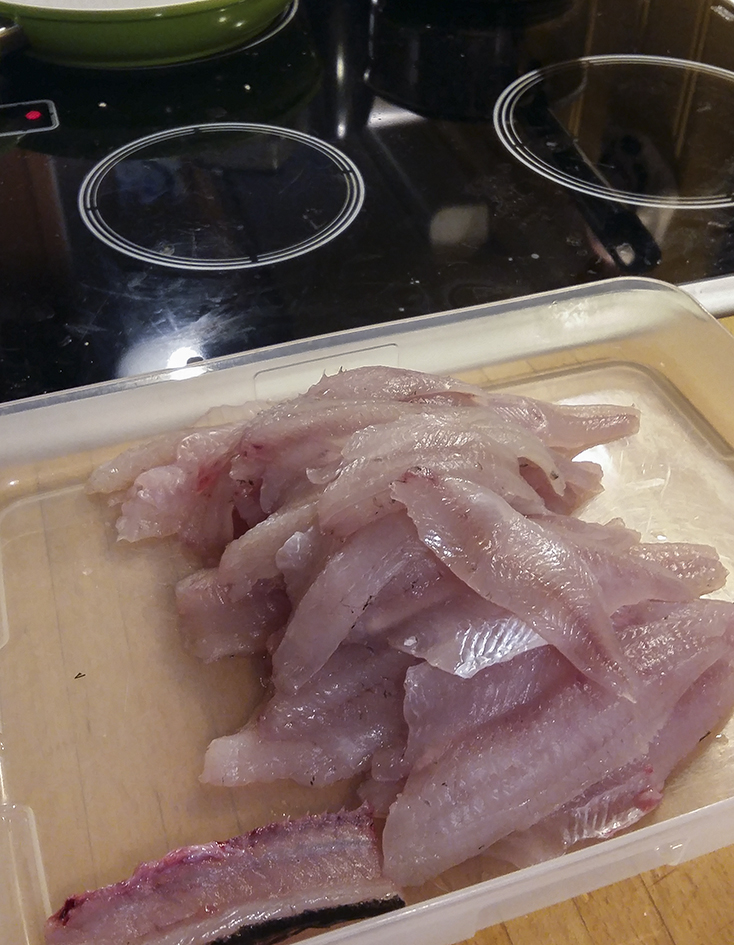 Cutting fillets to fry from self-caught perch and pikes.
Due to scarcity of food, the hunter-fisher-gatherer communities have always had respect for the prey. The Finnish work 'pyytää' refers to hunting or fishing. It means 'to beg', in other words to ask humbly for something. After getting some catch, it has been valued and utilised as thoroughly as possible, for food, utensils or clothing, for example.
According to an old shamanistic belief, there is a spiritual connection between the prey and the catcher. Even today, a fisherman may see the next day's catch beforehand in a dream. I believe that the future communities based on sustainable development will return to their roots, showing more respect for species and natural resources.
Whitefish roe with salt and onion is a special treat.
Sources:
1 Lapin ruokia. Poroa-lohta-hillaa. WSOY ja Lapin korkeakouluseura r.y. 1981.
2 Hunted. Artworks by Harriina Räinä, Kuvan kevät 2018, Helsinki.
3 Traditional ecological knowledge in perspective. Berges, F. 1993.
4 Science and traditional knowledge. ICSU.
5 Convention on Biological Diversity, article 8(j)
Text ©Kaisa Kerätär ©LandBodyEcologies
Photos by Kaisa Kerätär if not mentioned otherwise.
Translation by NorthLing.
* * *
KAMPSUT JA VELLIT – RUOKA OSANA EKOLOGISTA PERINNETIETOA
Itä-Lapissa marjastusaika tietää aina mukavaa ajanjaksoa, joka alkaa heinäkuun puolivälistä hillahommilla, ja jatkuu syyskuun lopulle puolukoiden keruuseen saakka. Karpaloiden poimijat jatkavat pidempäänkin, sillä pakkasenpuremat karpalot ovat parhaimmillaan ensimmäisten pakkasten jälkeen lokakuussa.
Hillojen, puolukoiden ja karpaloiden lisäksi poimitaan mustikkaa ja vadelmaa. Kaikkia näitä säilötään talven varalle sellaisenaan taikka hilloina ja mehuina. Myös variksenmarja on joillekin kiinnostava poimittava, sillä siitä saatava mehu on maukasta ja helppo säilöä.
Itsepoimitut marjat ovat tärkeä osa Lapin ruokakulttuuria ja hyvinvointia. Sen lisäksi, että ne tuovat vaihtelua ja väriä ruokavalioon, monia niistä on käytetty jo vanhastaan lääkinnällisiin tarkoituksiin.1 Nykyisin tiedetään, että esimerkiksi puolukka sisältää runsaasti antioksidantteja, ehkäisee tehokkaasti muun muassa matala-asteista tulehdusta ja vaikuttaa positiivisesti kolesterolitasoihin.
Marjastus on myös sosiaalinen tapahtuma. Marjaretkille lähdettiin yleensä perhekunnittain marjastuksen tapahtuessa vuosittain samoilla alueilla, perinne joka jatkuu meillä edelleen. Marjapaikkoja koskeva tieto on usein siirtynyt perintönä sukupolvilta toisille, eikä toisen perheen nautintoalueelle ole oikein hyvä mennä. Marjojen myynti on myös merkinnyt lisätienestiä sellaisina aikoina, jolloin toimeentulo on muuten ollut tiukkaa.
Keskeistä ravintoa ympäri vuoden on perinteisesti ollut myös riistaliha ja kala. Esimerkiksi poron tai hirvenlihasta valmistettua kuivaliha kuuluu kevättalvella ulkoilmassa valmistettaviin perinneruokiin. Kuivaliha on kevyttä ja hyvin säilyvää, ja siten täydellinen retkiruoka, jota voi kaivaa repusta ja vuoleskella nuotiolla istuessa.
Metsästäjä-kalastaja-viljelijäperheessämme hirven lihasta tehty käristys oli joka viikkoinen ruokalaji. Itselleni lihan käsittely ja kokkaaminen oli hyvin tuttua ja arkipäiväistä, kunnes uuden näkökulman aiheeseen minulle tarjoili kuvataiteilija Harriina Räinä muutama vuosi sitten.
Räinän teossarjassa Hunted (2018)2 hirven liha ja hirvenpyynti ovat keskeinen tutkimuskohde. Taiteilija on halunnut tutkia eläinperäisen materian roolia, ja sitä muutosta, joka tapahtuu, kun hirven materia assimiloituu ihmisen kehoon. Räinän teosten kohdalla pysähdyin miettimään tarkemmin omaa kehoani, ja arvioimaan syvän kiitollisena sitä energia- ja materiamäärää, jonka perheen ravinnoksi käyttämät hirvet olivat luovuttaneet kasvamiseeni ja kehoni rakentamiseen vuosien varrella. Hirviän hyvähän siitä tuli!
Itä-Lapin ruokakulttuurille on tyypillistä raaka-aineiden huolellinen hyödyntäminen. Kautta historian ankarat elinolosuhteet ja väestöä usein kurittaneet pula-ajat ovat vaikuttaneet siihen, että kaikki potentiaalinen raaka-aine on pyritty hyödyntämään ruuanlaitossa. Esimerkiksi kampsut ovat poron verestä ja ruisjauhoista valmistettua perinneruokaa, jota tarjoillaan perunoiden ja puolukkasurvoksen kanssa.
Lapin ruokia -kirjasta löytyy myös tämä todennäköisesti pula-ajalta peräisin oleva oravavellin keitto-ohje: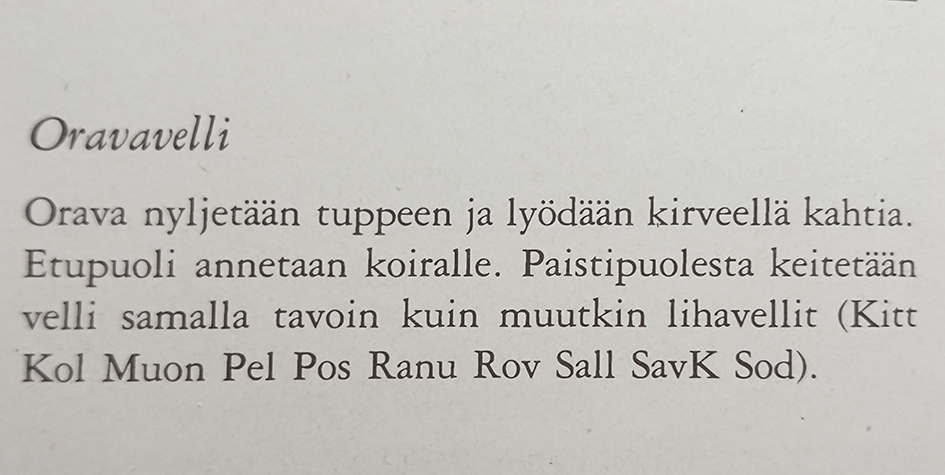 Hatunnosto niille entivanhaseen aikaan eläneille lappilaisille, jotka katovuosina tai paremman riistan puutteessa joutuivat askartelemaan tämän nykyihmiselle oudon ja yllättävän purtavan kimpussa!
Kaiken kaikkiaan lappilainen ruokakulttuuri on hyvä esimerkki ekologisesta perinnetiedosta (traditional ecological knowledge, TEK). Berges3 on määritellyt sen olevan kumulatiivista, sukupolvelta toiselle kulttuurisen siirron kautta siirtyvää tietoa, taitoja, käytäntöjä ja uskomuksia, joiden sisältönä on ihmisten ja muiden elävien olentojen suhde toisiinsa ja ympäristöönsä.
ICSU:n (International Council of Science) mukaan ekologisella perinnetiedolla on tärkeä rooli paikallisessa päätöksenteossa, kun käsitellään sellaisia arkielämän perusasioita kuten luonnon resurssien käyttö (metsästys, kalastus, keräily, maatalous ja karjanhoito), ruuan hankinta ja valmistaminen, sairauksien hoito, luonnonilmiöiden tuntemus, liikkuminen, suojautuminen sekä sopeutuminen ympäristön ja yhteiskunnan muutoksiin4.
Lappilaiselle ympäristölle on tyypillistä sekä vuodenaikojen että vuosien välinen voimakas vaihtelu säätiloissa ja luonnon olosuhteissa. Perinteinen tieto on auttanut Lapissa eläviä yhteisöjä sopeutumaan muutoksiin ja antamaan toimintavalmiuksia kriisitilanteiden edessä. Tätä tietoa ei ole varaa menettää, ja on hyvä, että perinteisen elämänmuodon omaavien paikallisyhteisöjen tietämyksen tärkeys ymmärretään jo kansainvälisestikin, ja sen ylläpitämiseen velvoitetaan esimerkiksi Biodiversiteettisopimuksen artiklassa 8(j)5.
Metsästäjä-kalastaja-keräilijä yhteisöissä ravinnon niukkuus on merkinnyt saaliseläinten kunnioittamista. Suomenkielen sana 'pyytää' tarkoittaa metsästämistä tai kalastusta. Se tarkoittaa samaa kuin 'anella' eli ask humbly for something. Kun saalista sitten on saatu, sitä on arvostettu, ja hyödynnetty mahdollisimman tarkkaan mm. ravinnoksi, tarvekaluiksi ja vaatetukseen.
Vanhan shamanistisen uskomuksen mukaan saalislajin ja pyytäjän välillä on myös henkinen yhteys. Nykyisinkin kalastaja saattaa nähdä unessa seuraavan päivän kalasaaliin etukäteen. Uskon, että tulevaisuuden kestävään kehitykseen perustuvat yhteisöt tulevat palaamaan juurilleen eli eliölaja sekä luonnonvaroja aletaan enemmän arvostaa ja kunnioittaa.